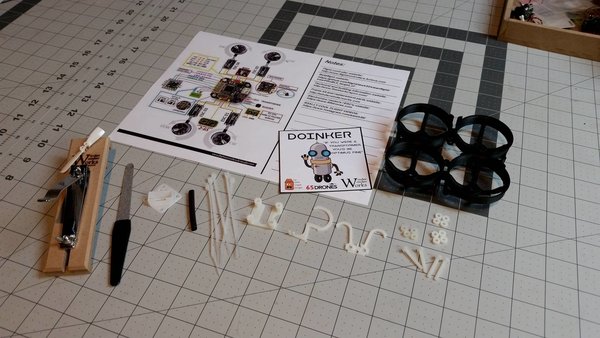 Doinker Black Knight Kit
This project has been a delight to work on!! So many talented people have been involved on this. First off Tim Znidar, who is a brilliant and talented designer.. We literately went through about 12 different frame designs before we got it right!! And then there is Matthew Johnson who was our test pilot in all of this.. OMG he makes this little guy look good... He is the king of the micro freestyle world now!! We've got parts stocked up NOW, so NO Pre-order BS on this launch.. You can order NOW....!!! Fully tested with several different motors and battery packs.. WE DID OUR Homework on this one, and waited until it was fully ready to release... some days working on this project, that was very hard to do with all the pre-order NOW stuff coming out that has not been tested..... but we did it ....Fully tested, redesigned, retested, FLOWN, redesigned and retested.. AND in STOCK NOW... and we are DAM proud to say that!!
Enough of the intro.......So here's what you get in the kit!!!
1. A Tim Znidar designed Awesome 82mm prop to prop ducted frame with very unique features such as vertical esc mounts and rubber-band retention system that also doubles as your battery keep. His awesome website for technical details and suggested equipment : http://www.theshortcrayon.com/
2. Frysky micro rx mount
3. vtx/cam TPU mount
4. bunny ears/loki horn set.. LOL this is my redesign for VTX protection on this project.. 2.5mm Bunny ears and a new frontal design.. The Loki horn .. Agent of Asgard :) .. See a video here --> Loki Horns

5. 4 20mm M3 nylon bolts nylon white

6. 4 20mm M3 nylon nuts nylon white 8 component spacers -> 4x2mm 4x3mm natural white

7. 2 long rubber bands assorted colors

8. 1 printed wiring diagram paper

9. 1 printed doinker card card stock paper

10. 5 small zip ties nylon black

11. 1 2" piece of 1/4" heat shrink tubing black

12 1 ** winderwonderworks prop cutter wood ** Limited time only free with kit purchase