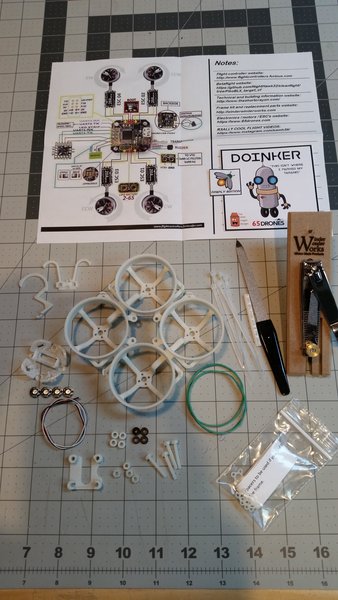 Doinker Firefly Edition
Current status: In Stock!

Introducing the Doinker Firefly edition! A Doinker with some really 'Illuminating' features!!

First off, a new clear TPU camera mount has been designed to except 4 Neopixel LEDs! These are Very Bright individually addressable RGB LEDS that are angled at the props ducts to illuminate the entire quad! Betaflight allows you to really customize and program how the LEDs will respond to either switches, throttle, left backing, right banking, yaw... The color combinations and blinking or solid variations are literally endless and totally up to you!!!

Combine that with our new polycarbonate-ABS blend frame and glow in the dark antenna protectors, And you have one AWESOME 'FireFly' in the Air! Halloween is going to be FUN at My house and this year for sure! ... :)

The Furious Piko, (not included in this kit, but used in the build), has an iLap sensor included which makes for an awesome indoor racing platform. We here in Cincinnati, (Cincinnati Quad Racers), plan on setting up indoor Doinker Firefly night races this Winter.. This should be Awesome to both watch and Fly FPV!!!

Video HERE --->>> The Doinker Firefly

Parts list:
Inventory list for the doinker Firefly edition kit:
Quantity description color/material

1 Frame: polycarbonate-ABS blend natural white
1 Frsky Rx mount natural white

1 vtx/cam Neopixel TPU mount Clear
4 Neopixel LEDS PCB 1 30guage tri-wire 10" length white,red, black

1 bunny ears/loki horn set glow in the dark white/green
4 20mm M3 nylon bolts nylon white

4 20mm M3 nylon nuts nylon white
8 component spacers glow in the dark white/green

2 long rubber bands assorted colors

1 printed wiring diagram paper

1 printed doinker card card stock paper

5 small zip ties nylon white 1 2" piece of 1/4" heat shrink tubing white

1 winderwonderworks prop cutter wood